What bottle do you use?
I use to use Dr. Brown's bottles, and now I'm trying to transition my son to a sippy cup.
First of all, I feel like I have about 20 Dr.Brown bottles just stacked up in my kitchen, and now I'm buying a bunch of sippy cups. I need more cabinet space for all of this! hahaha! I mean seriously my son has his own cabinet all to himself.
I recently did my own research to try and figure out which sippy cup is best. I feel like I'm just spending gobs of money on sippy cups, and now I have all these baby bottles that we won't be using.
I came across Pura!
So you are asking why did I make this switch?
Pura the ONLY 100% plastic-free and NonToxic Certified bottles on the global market!
Did you know plastics containing BPA could leach chemicals when heated? So every time you put your bottle in the microwave, you are poisoning your child!
These bottles can be used repeatedly over and over. Want to know how?
You can replace the silicone top as your child grows! Isn't that cool?
They offer traditional and
PuraTherma
insulated bottles in six sizes from 5oz-28oz and five fully compatible 100% plastic-free silicone lid types.
MADE SAFE – NONTOXIC
Certified & Lab Tested!
This product has been screened and lab tested for the following:
-behavioral toxins
-development toxins
-reproductive toxins
-carcinogens
-endocrine disruptors
-fire retardants
-GMO's
-heavy metals
-neurotoxins
-pesticides
-toxic solvents
-harmful VOC's
So Lets overview this product
-Baby grows but the bottle doesn't
-not insulated
-not made safe and it is TOXIC!
-PLASTIC collar and mechanism (polypropylene)
-baby grows and so does the bottle
-insulated
-made safe and nontoxic
-stainless steel bottle and collar
Here's what they have!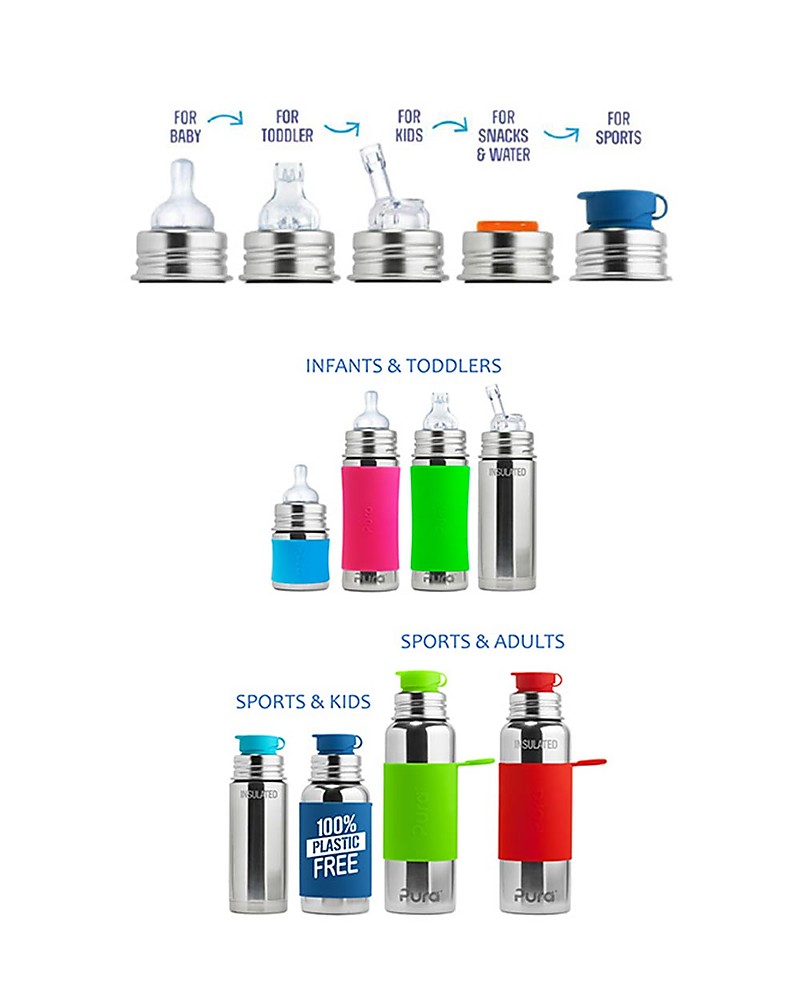 This post may or may not contain affiliate links. If you choose to purchase any of the products I have recommended, I may or may not receive a small commission at no cost to you. For more information, please see my disclosures.